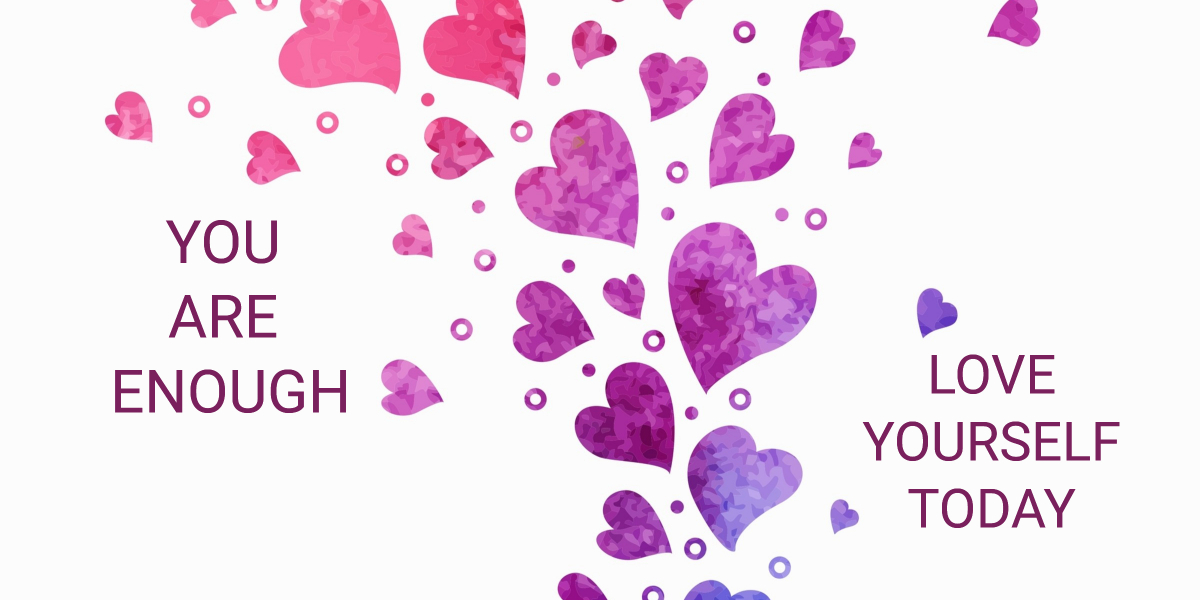 Without ample self-love, you will never feel good enough, successful enough, beautiful enough, or loveable enough.  It truly is that simple.  And…if only it were that simple!
Self-love, authentic, non-egoic self-love, can feel tricky.  We're often taught to diminish ourselves, so as not to brag or boast. And, for sensitive people, it can feel especially tricky. Sometimes it feels okay to love and accept everyone, except, of course, ourselves.
But, tricky as it is, self-love is crucial for a genuinely happy, successful life.  It's something I am continually cultivating for myself.  Something I've finally learned how to do for myself. Something I've finally realized is the key to it all.
Here are some ways to cultivate self-love.
You Are Not Your Negative Self-Talk — Get really clear about this.  All of your negative self-talk, and limiting beliefs, come from somewhere else. We learn what to say and believe about ourselves from our family, teachers, and friends. We pick it up from the air that we breathe.  We see it everywhere we look.  And even if seems to be true, that doesn't make it true.  It is societal hearsay, and it's certainly NOT who you are.
Clear Out the Clouds of Doubt and Negativity — Use techniques, such as EFT Tapping,  to clear out the clouds of doubt and negativity.  Again, no matter where the negativity comes from, it doesn't belong in your body and mind. EFT Tapping is a wonderful technique for deactivating old negative feelings and thought patterns. Contact me to learn more.
Forgive Yourself –Without forgiveness, your negative self-beliefs will stay in the dark, pestering you again and again.  Punishing yourself for the past helps no one.  Make amends as appropriate, then move forward.  Try using Ho'oponopono to help yourself let go of self-blame. To use Ho'oponopono, bring to mind something you're blaming yourself for, hold your hand over your heart, and repeat the words:  I'm Sorry, Please Forgive Me, Thank You, I Love You.  By repeating this mantra, you will help yourself release negative feelings towards yourself.
Cultivate Self-Loving Habits — Daily habits.  Ask yourself, what is the most loving thing I can do for myself?  It might be getting up early to meditate. Or carving out daily alone time.  Or taking a luxurious bath.  Or honoring your needs with a series of wellness sessions. It might mean committing to a new health routine which will benefit your overall well being.  Be clear about the difference between loving and 'improving' yourself.  Each day, ask yourself: "How can I love myself today", and keep this question fresh throughout your day. 
Use Loving Affirmations — Create a collection of affirmations and mantras which will help you increase feelings of self love.  Use affirmations such as "I love myself, exactly as I am," or "I can do it," or "I am open and receptive to love."  Find what works for you.  And, remember, repetition is crucial for success.  Repeated affirmations will gradually help your subconscious mind believe what you don't currently believe about yourself. 
Say I Love You To Yourself — Put your hand on your heart, close your eyes, and say: "I love you." Repeat for 5 minutes.  Simple, and powerful. 
Meditate on a Love Bubble — Sit quietly, close your eyes, and breathe deeply, from deep down in your belly.  As you breathe, deeply and slowly, imagine that you are surrounded by an iridescent bubble. Imagine that this bubble is filled with unconditional love.  And that this love is here to soothe you, hold you, and love you. The more you practice this, the more powerful it will become.
Stay with yourself —  Even, and especially when the going gets tough.  Stay in the moment, instead of avoiding with drink, food, tv, internet, or whatever you use to avoid tough feelings. When you're going through a tough time, allow yourself to stay with the feelings, loving them as you would love a hurt child. It's this love and acceptance that will help you transform the darkness.
Even when you waver in and out of self-love, it's always there for you.  Come back to it.  Cultivate it.  Remember,  love is here for you, even in your darkest moments.
In Love and Gratitude,
Marian
Want more self love?  Come to YOU ARE ENOUGH, DAILY PRACTICES TO BOOST SELF LOVE, February 24 at the Lotus Lounge Holistic Sanctuary in Morristown NJ.  Click here for more info and registration.