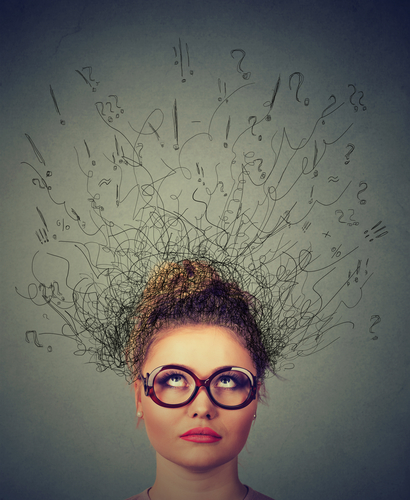 I'll admit, I'm a little bit embarrassed to tell this story.  It's one of those "I should have known better" stories.
So, here's what happened.  I was checking email on my phone one day, and saw that I couldn't read anything but the subject lines.  None of the body text appeared in the email.  Not a huge problem, I thought, I could always read my email on my computer.
But soon I realized it was a big problem.  How would I read last-minute emails from my clients when I was out without my phone?  What about the emails I needed to read again for instructions for the event I was attending.  What if it got worse and I stopped receiving emails?
So I began searching the internet for anything that would help me understand why this was happening.
And I found nothing.  Or at least nothing that caught my eye.
So, at last, I went to the Verizon store to see if they could fix it.  The woman helping me searched through my phone to see what could possibly be going wrong.
"Nope, I can't find anything."  And before handing me back my phone, she handed it her co-worker to take a look.
"Nope, can't see anything"
I watched as he shook his head and handed the phone back to my helper.
Then, just before handing me back my phone, she checked one more time.
"UHHH.  Your Email is taking up A LOT of space."
"Huh?" I said,
"Your Email.  It's taking up TOO MUCH space.  That's why you can't read anything.  You don't have any space."
"But how could that be?" I stammered.  "I only see 20 emails.  How could 20 emails possibly be taking up too much space?  Aren't the other emails automatically deleted?  I never see more than about 10 or 20.
Exasperated, she shook her head.  "No they're still there. See?" She held her finger down on the 'more' link at the bottom of the email list.  "See they're loading, 20 at a time. They don't get deleted unless you delete them.  Looks like these emails go back at least a year or more."
"Oh" I said, embarrassed, shrinking at the realization of my obvious ineptitude with cell phones. "Thank you so much for your help.  I really appreciate it."
And then proceeded to sit at a table right outside of the store to delete hundreds, if not thousands of messages.  I then realized to my dismay, that I had never emptied the trash for all the emails I had deleted.  So I began tackling them as well.
It took me hours of dedicated purging over the course of a few days to finally clean up my phone.  But very shortly into the effort, I got my email back.  At last I could read my incoming messages.
And then I got the message.  Loud and clear. All those emails —  I didn't even realize they were there.  And yet, they were affecting my ability to receive incoming information.  Old messages clogging my ability to receive.
And that's the way it works.  Unless they're released, old negative messages, from past experiences, traumas, and relationships, get stuck in our subconscious.  We can get so used to them, we often don't even realize they're there.  Or, sometimes we know they're there, but we believe it's just a part of who we are.
The more we look within, the more we're able to see the old, stale beliefs that are blocking our ability to receive fresh new beliefs. Sometimes awareness and intention are enough to dislodge them.  But not always.
EFT Tapping is one of the best ways I know to dislodge and release old, worn-out messages. EFT Tapping works to target and release the stuck emotions and outdated information that limit your ability to receive the guidance you need create positive new change.  Click here for an illustrated description of the EFT Tapping Points.
With the release of old beliefs and messages come the clarity, the understanding, the renewed ability to receive divine guidance all around us.
Let go, and receive.
In Courage,
Marian
Contact me to learn how you can use EFT Tapping to release old, outdated messages that interfere with your success.