When I suggest speci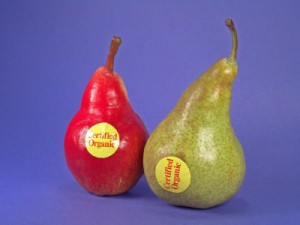 fic foods for my clients, I invariably add the word 'organic'.  Even if it's understood, I feel the need to say it.
Yes,  there's no question — organic foods do cost more.   And the cost is well worth it, I truly believe.   Fortunately, by reducing consumption of animal products, along with processed foods, a mostly-organic diet can be quite affordable.
Even if you're already buying organic, it's important to know the facts. The difference between organically- and conventionally-grown produce is clear an quite distinct.   Knowing the differences will help you feel good about each organic purchase you make.
To be labeled certified organic, all fresh or processed foods sold in the United States, including imports, must be produced according to the national organic standards and certified by an inspection agency accredited by the USDA.
Specific Certified Organic Standards include the following:
• Toxic synthetic pesticides and fertilizers— A farm field must be free of these chemicals for at least 3 years before a certified organic crop can be grown on it.
• Genetically engineered seeds or other materials — Certified organic products may not contain genetically modified elements.
• Sewage sludge — The USDA prohibits the use of sewage sludge in the production of organic food. Sewage sludge is widely used in conventional farming practices.  Sewage sludge has been shown to contain endocrine disruptors, pharmaceutical residues, industrial solvents, resistant pathogens, and more. These toxins can accumulate in plants grown in sludge-contaminated soil.
• Fresh manure  — Certified Organic standards require a waiting period between the application of raw manure and the harvest of any organic crops that are likely to be eaten raw. Conventional farmers are not governed by national restrictions on the use of raw manure.
• Animal Products —  Organic eggs, meat, and dairy products must come from animals fed 100% organic feed.
• Irradiation —  The USDA bans exposing organic food to radiation in order to kill microorganisms.
• Antibiotics and growth hormones —  Use of antibiotics and synthetic hormones is prohibited in certified organic meat and dairy animals.
For more information on the best foods to buy organic, visit:
http://www.foodnews.org
Keep it clean.  Clean food = Clean body = Clean Planet. 
Marian