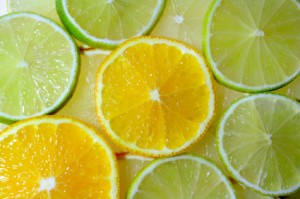 It's hot, hot, hot!  Here in NJ, as in so many other areas, it has been an extraordinarily hot summer.  During a heat wave,  it's very easy to become dehydrated.  And, prolonged dehydration can lead to serious illness.
To avoid dehydration — cool off and rehydrate — frequently.
Seasonal fruits and vegetables are perfect for cooling down an over-heated body. As always, Nature knows just what we need. Load up on farmer market goodies, treat yourself to a summer of vegetable salads and stir-fries. Keep it cool, and minimize cooking time.
Despite the lure of out-door grilling, it's best to limit cooking at high temperatures. Typical barbecue foods such as hamburger, hot dogs, and steak are slow to digest and can raise body temperature. Burnt foods are carcinogenic. Lightly grilled veggies and fish are tasty alternatives.
6 Keep-it-Cool-&-Hydrated Tips:
Go Green. Green vegetables, green drinks, and green seaweed are all light, cooling, and cleansing
Eat your juice. Water-rich melons, cucumbers, lettuce, celery, summer squash, citrus, peaches and nectarines are juicy and cooling
Add flavor with lemon and mint. Keep on hand to add quick cool flavor to salads, beverages, veggies, grains, and fish.
Keep hydrated. Drink water – lots of it. If you don't like plain water, try adding a fresh squeeze of lemon or lime. Herbal teas and coconut water are also hydrating. Caffeine and alcohol are dehydrating.
Take the load off of your digestion — Eat light and eat less. Meats, dairy products, and processed foods are slow-to-digest, and can raise your body-temperature. Fish, fruits, and vegetables are quick to digest.
Cool Your Breath — Here's a breath I learned from yoga teacher, Jane Bentley. Stick out your tongue, and curl it, length-wise. Breath deeply through your curled tongue, breath out through your nose. Continue this breath for 1-2 minutes.
Stay Cool!
Marian