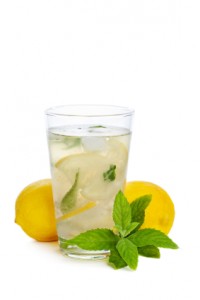 Stevia is a very sweet herbal sweetener.  Use the tiniest amount, and add more if needed. 
½ cup freshly squeezed lemon juice
4 cups water
1/8  teaspoon stevia powder, or to taste
1 small handful mint leaves
1.Place lemon juice, water, and stevia powder into a glass pitcher or jar and mix well.
2.Taste and adjust sweetness if necessary.  Add more lemon and water if too sweet.
3. Stir in mint.  Chill before serving.
Enjoy & Stay Cool!
Marian