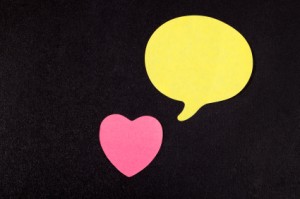 It's amazing what your body will tell you.  In essence, it will tell you everything you need to know.
Take for example, something as simple as a scratchy feeling at the back of your throat.  You know that's your signal to do something quick to avoid on oncoming cold.
Taking a closer look, there may be even more to it than physical discomfort.  A scratchy throat might be telling you something else you need to know — it's up to you to listen.
A headache, for example, could be just a headache. Or it could be a sign that you're spending too much time in your head, and not enough time doing what you love.
A sprained ankle could be the obvious result of tripping off a step, and/or a sign to be more careful.  It could also be a signal that your life is somehow out-of-balance, and that you need to slow down.
A stomach ache might be caused by something you ate.  Or, it might be a trapped emotion, hiding in your gut, trying to get your attention.
As a volunteer at the Gagnon Cardiovascular Institute in Morristown NJ, I'm continually amazed at what the body will do to protect the heart.    Chest pain, shoulder pain, jaw pain, shortness of breath,  bloating,  palpitations —  these are  just a few of the alarms which signal heart trouble.
The alarms continue to get louder, until they are finally heard — and responded to.  Sometimes it takes a heart attack, or a completely 'unrelated' accident, injury, or surgery to uncover the needs of the heart.
Taking it one step deeper — I believe that all heart trouble, and serious illness, is the body's ultimate wake-up call.  A call for transformation.
Listening  is the first step.   Next, following the body's guidance is what empowers us to transform.
Illness is body poetry, asking to be understood.  A gift to help us wake up to the beauty of our lives.
Not quite sure what your body is telling you?   EFT (Emotional Freedom Techniques) is a fast, effective technique to find out.   Contact me to set up an introductory session.    Learn more about EFT here.
Be Well & Keep Listening!
Marian
What has your body told you? Post below.
Share this with someone you love.