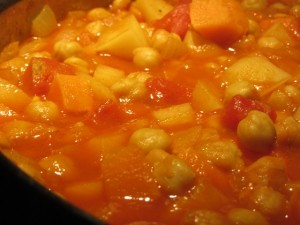 Quick & Sumptuous on a cold winter's night.
Serves 4-6
2 tablespoons olive oil or coconut oil
2 small-medium onions, diced
4-5 cloves garlic, minced
2 teaspoons curry powder
1 teaspoon ground cumin
1 teaspoon ground coriander
½ teaspoon cinnamon
1 can pumpkin or sweet potato
1 14-ounce can diced tomatoes
3 cups cooked chickpeas, or 2 cans
1-2 cups stock or water
1-2 teaspoons sea salt
Heat oil in a large skillet or heavy bottomed pot over medium heat.

Add onions and sauté for about 5 minutes, or until tender.

Add garlic and spices, sauté 1 minute more.

Add pumpkin and tomatoes.  Cover and simmer over medium-low heat, about 15 minutes.

Add chickpeas, stock or water and salt.  Stir to combine ingredients.  Simmer for 5-10 more minutes.

Serve with brown rice or quinoa.
ENJOY!
Marian