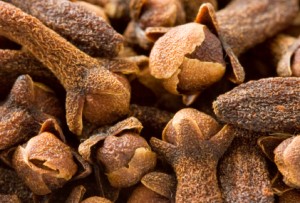 About a week ago I came down with a strange little virus.  I had a very sore throat, along with a number of canker sores in my mouth.  Yuk, not pleasant.  I was weak, tired, and I felt like I could sleep for-ever. But, because it was the day before my daughter Rosalie's 16th birthday,  I was determined to get better FAST.
So, I loaded myself up with Kombu-Shiitake Stock, EmergenC,  and Umeboshi  Plum —  anything to boost my immunity.  Unfortunately, none of this was helping my throat — or my mouth.    And that's when I remembered   —   CLOVES.
Back in the old days, before ibuprofen and novocaine, cloves were used to soothe tooth aches.  They are very effective at numbing pain.  I knew this, so I decided to try some clove tea, a remedy I've used before as an afternoon pick-me-up.
It worked!  After a couple of cups, my throat and mouth felt much better.   I kept it up, got lots of rest and drank quarts of Kombu stock.  And I got better  –  just in time for Rosalie's birthday celebration.
Clove tea is super easy to make.  Put a pinch of whole cloves, approx. 5 or 6, in a tea ball or filter.  Put the tea ball in a cup, fill with boiling water, and steep for 3-4 minutes.  You can add honey to taste, although it tastes good without.
As I said, I've also used Clove Tea as a pick-me-up.  I got the idea from my friend and teacher,  Herbalist  Letha Hadady, www.asianhealthsecrets.com.  Cloves are fabulous for boosting energy.  They warm and energize the adrenal glands, enabling them to provide you with more energy.
According to Ancient Chinese Medicine, cloves also relieve nausea, hiccups, and even impotency.  Who knew something so tiny could have so much power?
So next time you need a rescue, go for the cloves.
Feel free to share this with anyone who might appreciate a kindly recue right about now.  And, tell me about your own home remedies.  I'd love to know what works for you!
Be Well and Energized,
Marian