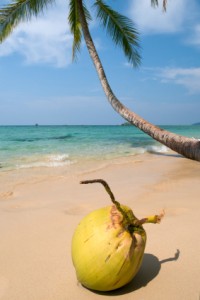 I love coconut water.  Especially when it goes on sale.
A few years ago I began drinking coconut water as a revitalizing after-work-out-sports-drink.  It's perfect for replenishing electrolytes lost through sweat.   According to David Wolf, author of Superfoods, coconut water is one of the highest sources of electrolytes in nature.
This is great news.  Electrolyte depletion causes lethargy, fatigue, and weakness.  When you replenish your electrolytes, you boost your energy.
Coconut water is  a much healthier choice than the sugary, artificially colored and flavored sports drinks.  I like it because of its gentle, nutty flavor.  It's like drinking a magical healing potion.
The best way to enjoy coconut juice is straight from the young green coconut.  Look for them in health food stores and Asian markets.  Or, on a Caribbean beach.   Also available in cartons and cans, there are a number of new products on the market.  Be sure to check the ingredients. — some brands actually have added sugar.  Coconut water is naturally sweet and needs no sugar.
Coconut water is the perfect ingredients for my morning smoothies.  And, I love making coconut juice kefir.  More on this later…
Stay Cool,
Marian