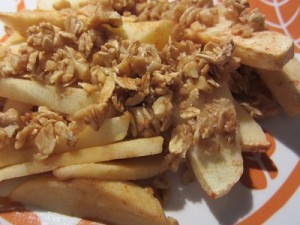 Apples, apples, apples.  I love apples.  I just can't resist Autumn's gorgeous varieties! In my enthusiasm, I sometimes I  buy a few too many.  So, here's my recipe for using all those extra apples.  It's easy and wheat-free.  Perfect for both dessert and breakfast!
INGREDIENTS
4-5 apples, sliced
2 teaspoons lemon juice
1 tsp + 1/2 tsp cinnamon
1/2 cup rolled oats
1/2 cup chopped walnuts or almonds
1/4 cup + 1tsp maple syrup
Dash of salt
PREHEAT OVEN TO 350
1.  Combine sliced apples, lemon juice, 1/2 teaspoon cinnamon, and 1 teaspoon maple syrup in a bowl.  Use your hands, or a spoon, to gently mix the apples until coated.  Pour into 8 X 8 glass baking dish.
2.  Mix together oats, chopped walnuts, 1 teaspoon cinnamon, 1/4 cup maple syrup, and a dash of salt.
3.  Spread oat mixture evenly over apples.
4.  Bake for 45 minutes.
5.  Enjoy!
What's  your favorite way to use up extra apples?  Post below.

 Be Well,  Marian