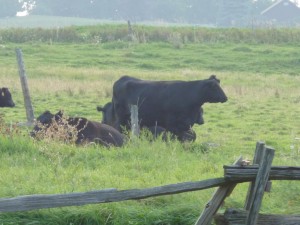 I just got back from a trip to  Vermont with my husband Tom, and  two daughters, Annika and Rosalie.  Vermont, land of green mountains, is truly vibrant and green – with lush green fields, and lots of happily grazing cows.  I love cows, happy cows especially.
We stayed in Burlington, (home of the irresistible health food store City Market).  On our last day, Annika, our 19-year-old tea-lover, brought us to the Dobra Tea Room http://www.dobratea.com.  After a couple of cups of delicious Assam Brahmaputra, an Indian tea perfect for long journeys , we left with a box of Extra Gunpowder Green Tea.  I'm drinking a glass of it right now, from sun tea I made earlier this morning.
As a recovering coffee addict, I switched over to green tea about 5 years ago.  (Okay, I confess, I cheat.  Mostly on weekends.  )  Coffee, sad to say, is very hard on the adrenal glands, and mine were shot.
Green tea has much less caffeine than coffee (30-60mg compared to 100 mg in coffee).  This means less stress on the adrenals, and in the end, MORE ENERGY.  Adrenal glands pump out the hormones responsible for lifting energy.  When they're overworked by coffee and other stimulants, they eventually give up.   After a while, those daily cups of coffee will just make you tired and wired.
Tea has theanine, an amino acid which actually helps to counteract the adrenal-whipping effects of caffeine.  Theanine helps you relax by increasing alpha waves in your brain.  It also increases GABA, the neurotransmitter responsible for relieving stress and anxiety.  Don't worry, tea won't relax you enough to make you fall  asleep.  Theanine works synergistically with caffeine to boost your focus and cognition.
Bottom line, the more relaxed you are, the less energy you'll waste on stress and anxiety.  Tea, especially green tea, is kinder to your adrenals.  Just like happy grass-fed cows give better milk, happy adrenals give better energy.
To learn more about foods to make you feel great, come to Good Mood Foods on October 28.
Stay tuned for effervescent tips to slay your slump and bust your funk.
Be Well!
Marian