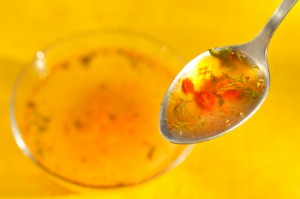 Vegetable stock.  When I'm out of stock, I'm out of sorts.  I use it for nearly EVERYTHING.  A slight exaggeration,  yes.   But only slight.
My husband says that people at work comment that his food always smells so good.
It's the stock.
A good vegetable stock does take time and effort.  But please believe me — it's worth every second  you spend making it.  And,  if you make a large batch, you'll have enough to last you a month or so.
In Fall and Winter, I fortify my stock by adding  strengthening herbs and veggies  – including Astragalus root, burdock, and gogi berries.   It's like a magical healing potion when used in a miso soup.
And, believe it or not, when you drink a glass of this potent elixir, you might just conquer your sugar cravings and bust your fatigue.  All this, and so delicious.
Following is the recipe I use.  Sometimes I can't find all the ingredients.  Sometimes I am lazy and I only use some of the ingredients.  It doesn't really matter.   Just find a combination that works for you.  Keep in mind that cruciferous and soft veggies don't work well.
Use Organic veggies for your stock – it will taste better, and be better for you.  ENJOY!
Energizing  Vegetable Stock
2 tablespoons extra virgin olive oil or coconut oil
6 onions, coarsely chopped, skin and all
8 medium-large carrots coarsely chopped
2-3 leeks, washed & coarsely chopped
1 head celery, coarsely chopped
2 turnips,  coarsely chopped
2 parsnips, coarsely chopped
1 bulb celeriac  (celery root) peeled & chopped (optional)
½ bunch parsley, washed and chopped
10 black peppercorns
2 strips Kombu seaweed
2 sprigs thyme
1-2 gallons spring water, or to cover
In a large stock pot, heat oil.  Add onions, leeks and celery.  Cook for 5-10 minutes, or until vegetables have softened.
Add remaining vegetables.  Cook, stirring frequently, for 3-4 more minutes.
Add water, herbs and kombu.  Bring to a boil and skim off foam.
Simmer, partially covered for 1 – 1 ½ hours.  Let cool slightly and strain through a fine mesh strainer.
Pour and store in quart-sized containers. Freeze most of it, refrigerating only what you will use in the next week.  When freezing, be sure to leave a couple of inches of room in jar for expansion.
Questions or comments?  Post your comments below.