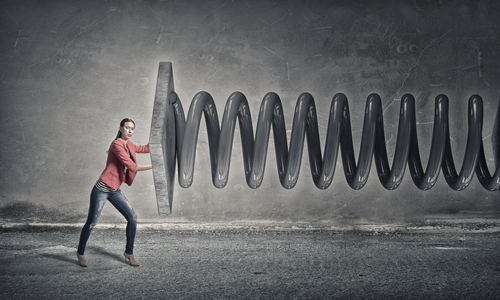 I've come up against a lot of resistance lately.  Especially with my work. This happens sometimes. Problem is, if I stay in resistance, I will get very little done beyond my already-scheduled appointments.  Been there, done that, too many times.
Luckily, it's because I'm so familiar with resistance, that I've taken the time to look at it more deeply.  And, I've been able to create techniques and systems to help myself get out of it.
In my quest to overcome resistance to my work, I've learned a great deal from the activities which I don't resist as much.  Such as my morning meditations.  Or my regular Daily Burn workouts.   Or any other activity that I do on a consistent basis to improve my life.
It's not that these activities are always enjoyable. In fact, I have, and sometimes still do, resist them.  But most of the time I show up without giving myself an out.  Sometimes I truly enjoy myself.  Sometimes I don't. But I do it anyway.
And I began to see.  It's the showing up, no matter what, that brings the results I'm looking for.  Before long, the showing up becomes a habit.  A habit I don't think about.  An activity I don't worry about, or resist, because I know it's worth it even if I don't love every second of it.
To me, resistance feels like energy. Dark and heavy.  It looks like an ever expanding wall, building up between me and whatever  I'm avoiding.  And so often, if not always, once I let go of the resistance, and take action, I feel amazingly empowered.
Resistance is a feeling which distorts our perception of the activity we're resisting.
Resistance is usually laced with fear, dread, and anxiety.  It doesn't feel good.  When we feel this way, it's hard to see clearly. What's important is helping ourselves let go of the resistance in order to move into productive action.
Here are a few things you can do to reduce resistance:
Throw yourself into an activity without over-thinking it. Just show up and allow yourself to navigate through, knowing that you are making progress.
Use EFT Tapping to clear resistance. EFT will help you release negative feelings associated with the activity you're resisting.
Take small action steps in the direction of the activity you're resisting. Sometimes we resist taking action because our action steps are too large. Make your action steps manageable.
Get comfortable being uncomfortable. Making progress can be tedious, uncomfortable, and irritating.  Keep going.  It's the progress you're looking for.  The dream you're going for.  That's what it's all about.
Change your scenery. If possible, do your work in different setting.  Or change up your environment.  The point is to get out of the energy of resistance.
For EFT Tapping to Help you Let Go of Resistance, listen here:
Enjoy!
In Courage,
Marian
FREE TRAINING:  Overcome the Fear of Shining in Your Business So You can Do What You Love. Click here for download.