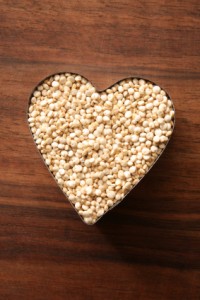 I've been eating a lot of quinoa lately.   It started when I cooked up a couple of extra batches for a gluten-free bean burger recipe I was testing for a client.  I had plenty of leftovers to play with.  So, I did.
I love quinoa.  It's so easy.  The cooking method is similar to brown rice, but much quicker.   I cook it in home-made vegetable stock instead of water.  Delicious.  Then, I use it pilaf-style, stir-fry style, or plain as a side dish.
My new favorite breakfast is quinoa, eggs, and kimchi.  ( I'll write about kimchi another time. )
Besides delighting my taste buds, Quinoa fuels my energy.  It's slightly alkaline – which means it's not an energy drag.  It's easy to digest, and it promotes balanced blood sugar.  And, it is considered to be a complete protein.   So, it's perfect for vegetarians and vegans.
A tiny little grain (actually  a seed) – with so much to give.  Ancient Incans considered it as valuable as gold.   They used to increase the strength and stamina of their warriors.
So, you may ask, how do I make it? It's easy, but there's a trick to avoid the bitter flavor it can have.   Here's a basic recipe.
BASIC  EASY QUINOA
1½ cups quinoa, rinsed with boiling water, drained in a fine mesh sieve
2  cups water or vegetable stock
Pinch of salt
1.       Rinse the quinoa in boiling water. This will help remove the bitter outer-coating.
2.       In a heavy-bottomed stock pot, bring water or vegetable stock to a boil.
3.       Add quinoa.  Bring to a boil.  Reduce to simmer.
4.       Cook over low heat for 20 minutes.  Remove from heat.  Fluff with a fork.
If you want my recipe for quinoa pilaf, email me at marian@goodfoodsolutions.com for a free recipe.
And, share this with anyone you think might want to try quinoa.
Questions  about quinoa?  Do you have a favorite quinoa recipe?   Let me know.  Post your comments below.