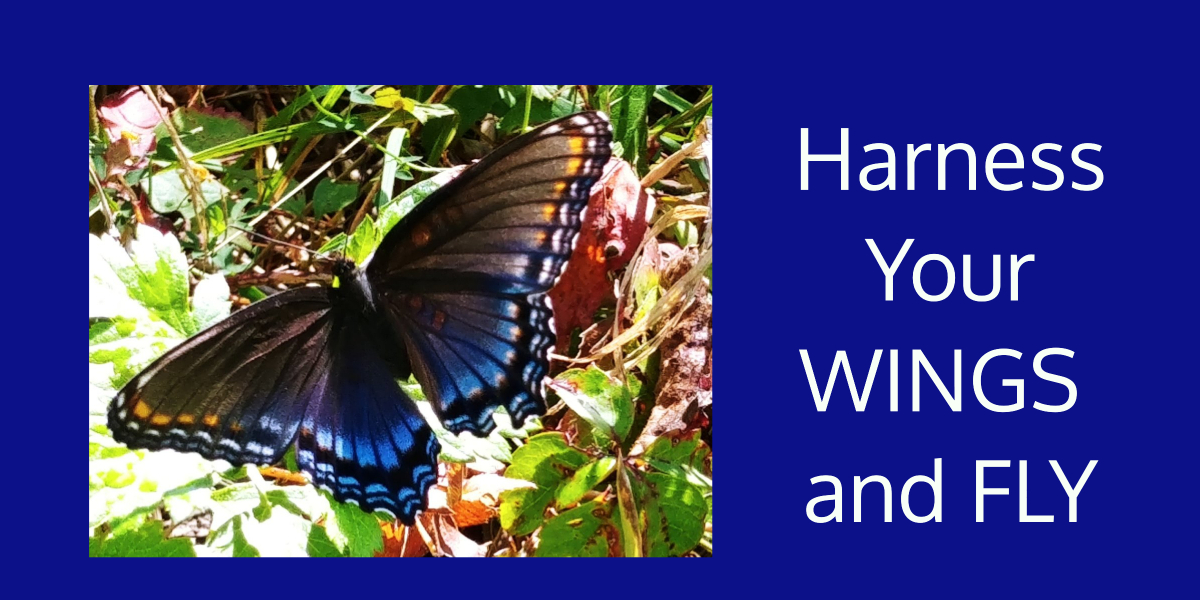 I came across this butterfly the other day as I walked in the wildflower garden in my local Reservation.  She was on the ground, flapping her wings, not going very far.  Above her, beckoning, were the wildflowers she had come for.  But there she was, stuck in the dirt.  At first glance I thought she was dying.  At second glance I realized she was showing me exactly what I needed to know.
We are all butterflies in some stage of development.
While some of us are soaring high, many of us are cocooning, or struggling to fly.  Like the butterfly in the garden, we often struggle on the ground, moving in circles, never enjoying full flight.  Our wings, heavy with judgement, feel unable to lift us into the garden where we belong.  Sometimes we're so burdened with self-doubt that we can't even budge our wings. 
So, to that beautiful butterfly, I sent my love and deep appreciation for her being on my path that day.  And though she continued to struggle, I held my vision of her well-deserved flight. 
Within moments, just as I was about to move on along my path, the butterfly fluttered up into the garden, alighting on a nourishing blossom.  Satisfied, and happy, I continued my walk and I immersed myself in the fragrant flowers, and the sounds of bees and crickets. 
A while later I found myself back in the spot where I had seen the butterfly.  She was gone.  Though I looked for her in the flowers, on the ground, in the grasses at the edge of the path – I couldn't find her anywhere. I began to wonder if she had fallen to the ground and staggered off to die. 
So, in that moment, I asked for my higher power to show me the butterfly, or show me it was time to leave.  I looked one more time,  didn't see her, and  I turned to go. 
And there, right as I turned to go, was the butterfly — flying high amongst the flowers.
Its when we surrender to the power of love, grace, and invisible sources of assistance, that we're able to embody the power of our wings.  Lifting off of the ground, we fly, reaching higher and higher, until we're able to see that the garden was here all along.
Peace,
Marian
If you need help lifting your butterfly wings, contact me.