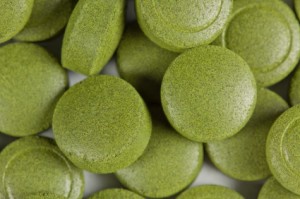 I recently started taking chlorella on a daily basis.  I've taken it in the past, but never regularly.
I can't remember exactly what got me started – I think it was the combination of a healer telling me I should cleanse my liver along with a simultaneous chlorella sale on Mercola.com.
Anyway, I'm now taking 15 chlorella tablets a day.  This may seem like a lot, but they're tiny little pills.  Very easy to swallow.  I take 5 at a time, three times a day.
I've been doing this for about a month now.  And I've noticed a huge difference in my energy, my clarity, and my skin.  My skin especially, has gotten so much softer, clearer, and luminous.
And this of course, makes total sense – given the magnificence of this tiny little substance.
Chlorella is single-cell water algae known for its ability to purify blood and detoxify the body of heavy metals such as mercury.  It's considered a complete protein, and is a source of B-vitamins.  Chlorella is highly alkalizing, promotes beneficial gut flora, aids digestion, and helps to eliminate fungus.  It's also known to lower both blood sugar and blood pressure.
And, that's not all.  Chlorella promotes tissue growth and repair.
No wonder I feel so good!
If you try chlorella, be sure to look for 'broken cell wall' chlorella.  The cell membrane is indigestible and must be 'broken' in order to release the miraculous goodness inside.
I like Dr. Mercola's brand, available at mercola.com.   Any health food store should have a nice selection.
It's definitely worth a try.
Happy Spring Cleaning!
Marian