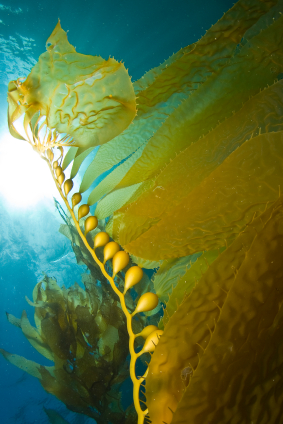 I've been eating more seaweed during the past few months.  And I feel great!   I have more energy, softer skin, and healthier hair.  (I swear I even have fewer gray hairs!)
After my trip to San Diego in August, where I walked around piles of giant kelp each day, I felt an undeniable urge to bring the ocean back home.  The mineral-rich seawater powerfully soothed and relaxed my hips and muscles, and I felt the need to detoxify.  I had to have more.
So, when I got back, I began adding more seaweed into my diet.  Sometimes I  crisp a piece of Nori on the stove for a quick morning snack.   Or, I put extra Wakame in my miso soup and brown-rice stirfry.  I make a seaweed tea from kelp and arame  which I pour into my bathwater for a soothing seabath at home.  I always keep a bag of dulse or kelp around to munch on.
Seaweed can get expensive, so I buy seaweed in bulk from a small company called Maine Seaweed Company.   It's a wonderful source for hand-harvested wild seaweed from pristine Maine waters.  To order, or learn more about the company, and its owner Larch Hanson, click here.  This site was recommended to me by my friend, Herbalist Letha Hadady.  Visit Letha  at  www.asianhealthsecrets.com.
Commercial seaweed sources include Emerald Cove, Maine Coast Sea Vegetables, and Eden, available online and at health-food stores.  If you plan to use a lot of seaweed, it's cheaper to buy bulk.
Here's a quick kombu stock which is so tasty and easy to make, you'll have no excuse for avoiding seaweed.  Seaweed is mineral-rich, and is beneficial for skin, hair, energy, thyroid, detoxification, and more.  Click here for my arame-saute recipe in the September issue of my ezine, The Good Food News.
Quick Kombu (Kelp) Stock
This gingery seaweed stock is alkalizing, mineral-rich, and detoxifying.  It's great as an afternoon pick-me-up.  It's also perfect as a base for miso soup.
2 quarts cold water
1-2 strips kombu (kelp) seaweed, wiped clean
Handful dried shiitake mushrooms, rinsed (optional)
1-2  inches ginger, peeled, and sliced
Shoyu (natural soy sauce) to taste
Combine all ingredients except shoyu in a large sauce pan. Heat to a high simmer.
Reduce heat and simmer gently uncovered, for 30 minutes.
Strain the broth, reserving the mushrooms for another use.
Season to taste with soy sauce.