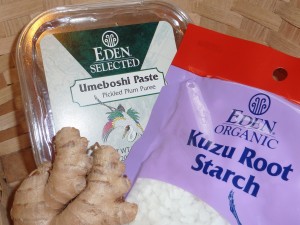 It's that time again. Ume (U-mee) time. Parties, cold weather, and seasonal change all weaken immunity. That's why, when I wake up in the morning with the unmistakable signs of a cold, I immediately go for ume. I always have a stash in my cupboard.
Ume, short for Umeboshi Plum Paste, is my all-powerful weapon against colds, fatigue, and holiday over-doing.
Just a few years ago, when my immunity was completely shot from years of illness, I got colds ALL THE TIME. My husband always joked that I'm the sickest healthiest person he knows. Or was it the healthiest sick person. Anyway, not a compliment I like.
And then, I discovered my friend Ume. The remedy I have for you is a totally amazing funk-zapper. I honestly cannot count the number of times it has saved me. In fact, it is verboten in my house to EVER run out of the ingredients.
Umeboshi Plum Paste is made from fermented umeboshi plums. It is very sour , very salty. For centuries, it has been used medicinally in Japan. During the Samurai period, it was a soldier's most cherished field ration.
Each ingredient in the Ume-Kudzu remedy has its own power. Antibacterial and alkalizing, umeboshi is the perfect system purifier and disinfectant. Powdered kudzu root is also very alkalizing, and soothes digestion. The ginger is warming, stimulates digestion and circulation, and promotes systemic cleansing. The soy sauce brings the flavors together.
And, if by chance, you do run out of kudzu, ginger, and soy, you can always do a dab of Ume. Just a teaspoon or so will help re-alkalize your system after too much of anything.
Ume-Kudzu
Good for relieving, overindulgence of sweets, acid indigestion, colds, diarrhea, headache, stomach pains, fever.
1 ¼ cups water
1 teaspoon umeboshi paste
1 ½ tablespoons kudzu powder (thickens like cornstarch)
1 tsp. soy sauce
Juice from 1 tablespoon grated ginger
Combine 1 cup water and umeboshi in sauce pan and bring to a boil. Dissolve kudzu in remaining ¼ cup cold water. Add to saucepan and stir constantly while returning to a boil. Reduce heat to low, stir in soy sauce and ginger. Simmer 1 minute, stirring constantly. Allow to cool to body temperature.  Sip throughout the day.
Marian
Have a question about healing remedies? Ask me in the comments below.