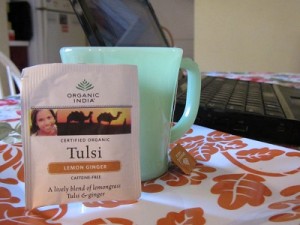 Though it's technically still summer, it sure feels like fall. Labor Day ushered in the winds of change. School has started. Schedules are filling up. Daily routines have tightened to meet the demands.
It's easy to feel disrupted, ungrounded, and anxious during the first days of a new season. Especially the shift from summer to fall. Fall brings such a sense of duty and responsibility. Worry and anxiety are frequent companions.
Don't despair.
Tulsi Tea is here to rescue you, strengthen you, and soothe your soul as you brave the season.
Tulsi, or Holy Basil, is considered a sacred herb in India and is dubbed the "Queen of Herbs." It has been used throughout the ages by healers and spiritual leaders as a medicinal herb, purifying agent, and spiritual tool.
So, Tulsi will indeed enhance your yoga and meditation sessions. It will also help calm seasonal jitters, boost brain power, strengthen immunity, improve metabolism, increase energy and endurance, lower blood sugar and reduce stress.
Sharper Focus. Calmer Nerves. Better Metabolism. More Endurance. More Energy.
The golden keys to success. All this in one delicious tea bag. Organic India produces a high quality tea, in a variety of flavors. I love it. So do my clients. You can find it at most health food stores.
For me, Tulsi tea is the perfect funk-buster for easing back into the hustle & bustle of fall. I'm enjoying a cup as I write this post. Wow, did it help me focus!
Contact me to learn how to integrate funk-busting foods, herbs and techniques into your life. Nourish your body-mind, transform your life.
What's your favorite funk-buster? Post your questions & comments below. I'd love to hear from you.
Be Well,
Marian