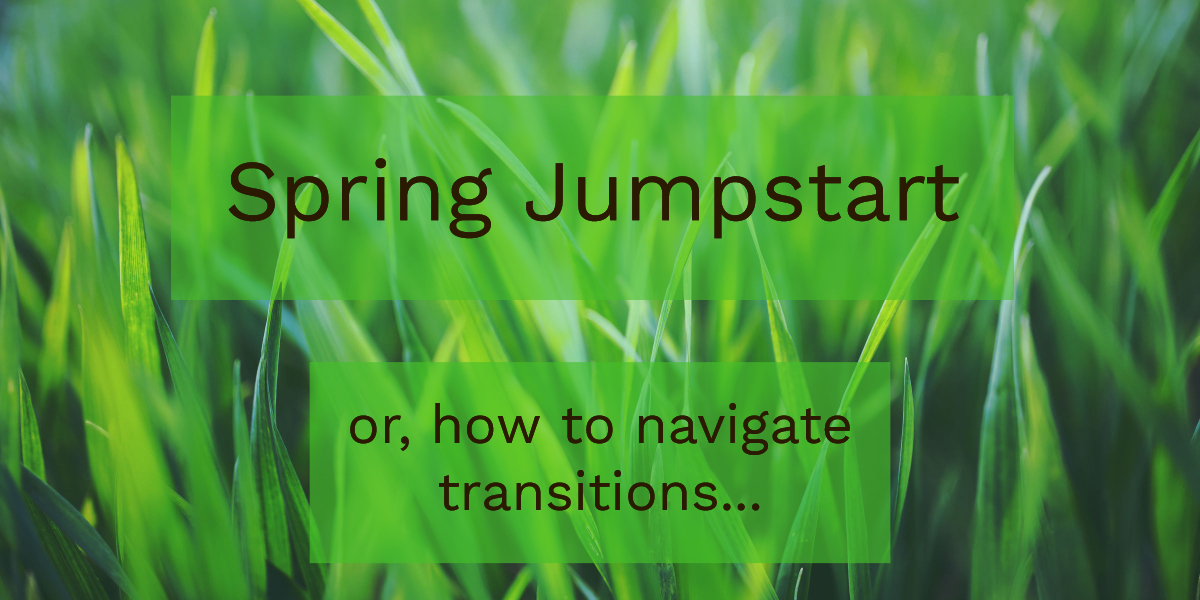 Spring!  Time to spring into action, right?  So why do so many people feel so tired?  Maybe it's the loss of sleep due to daylight savings.  Maybe it's Mercury in Retrograde.  Maybe it's the change of seasons.  Probably, it's a mix of all of it. 
We bundle ourselves up during winter, cocooning in hibernation. Then comes the loosening of Spring.  More sun. Warmer temperatures.  More action.  All wonderful.  Yet, after the stillness of winter, it can feel somewhat disruptive, distracting, discombobulating.
Transitions of any kind can be hard.  Transitions mean change.  And change can throw us off track, making it harder to spring into action.  Grounding and settling your energy is what will give you the power to reboot and reenergize.
Here's what to do to feel more grounded, so you can give yourself a nice powerful jump-start.
Meditate — Meditation will help bring you back to center.  Consistent meditation changes your brain, making it more adaptable to stress.  It will help you feel more grounded, less distracted, and more able to navigate transitions. Start with 5-10 minutes at a time.  Add mini meditation breaks to your day to help you stay centered throughout.  Try Insight Timer for free guided meditations and a meditation timer.
Go to bed early – Good sleep is essential to reset your energy supply.  Turn off electronic devices.  Let your energy settle.  Sleep in a dark room.  Make up for lost sleep.

Walk in Nature – Walk on the softening Spring earth.  Sense yourself grounding with each step.  Breath the air. Smell the air.  Notice life emerging.  Merge with the energy of Spring.  Allow it to reinvigorate you.
EFT Tapping – Tap a few rounds around the points to help yourself clear away distractions and anxiety.  EFT Tapping is one of the most effective techniques for lowering cortisol, the major stress hormone.  Lowering cortisol will help you feel more relaxed.  It will also help you release 'false' energy that keeps you wired.  For an illustrated diagram of the tapping points, click here.
Get out of Your Beta Brain —  Beta brain wave state activity is very busy, and can lead to distraction and worry.  Use techniques such as EFT Tapping and the Heart Breath Meditation to drop into a deeper, calmer alpha brain state.  It's from this deeper, calmer place that you can feel inspired to take new action.  For videos on how to use EFT Tapping and Heart Breath, click here.
Get Creative – Nourish and awaken your senses.  Follow your intuition, and do something that will help you drop into creative, effortless flow.  In this space, let go of how things should be, and allow yourself to be reinvigorated by your own creative power.
Nourish Yourself —  Springtime is time to detoxify. Detoxify your diet with plenty of water,
leafy greens, colorful veggies, seaweeds, and probiotic foods.  A diet rich in plant foods is anti-inflammatory, and helpful for allergies. Herbal teas such as Nettle, Ginger, Rooibos, Peppermint, can also be helpful.  By cleaning up your diet, and clearing out the toxins, you will feel energized to move forward.

Happy Spring!
In Gratitude,
Marian
Need some encouragement to help you get going?  Contact me.