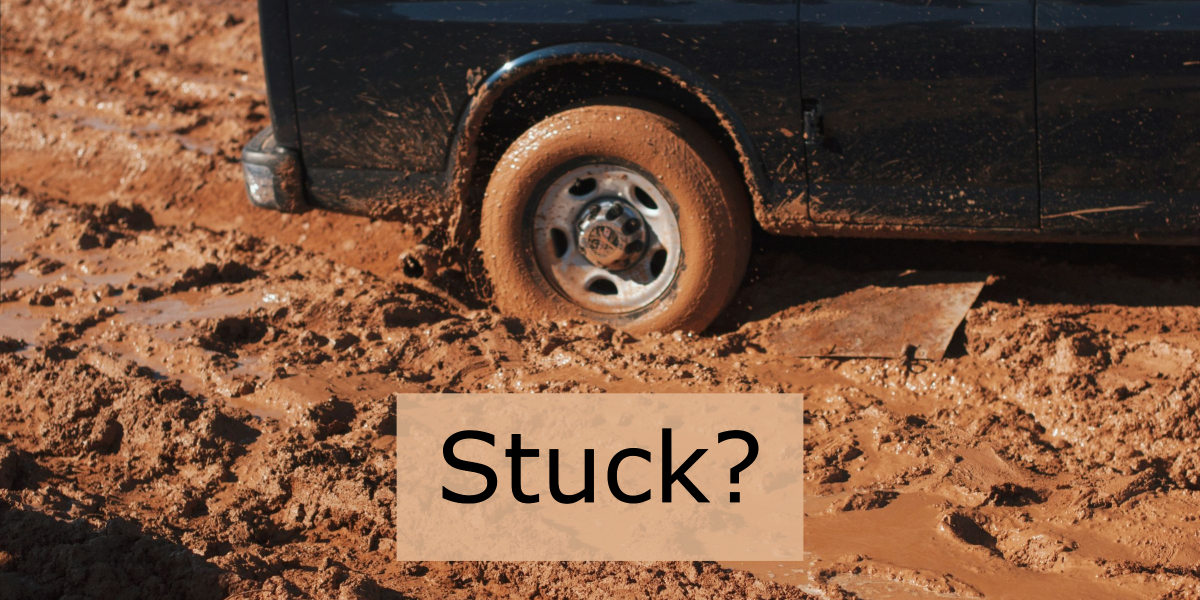 Many of us are going through some heavy challenges right now.  A number of my friends and clients are either at a crossroads, or feeling incredibly stuck, and unable to move forward.
It's during these trying times that we yearn to know what's next.  We feel frustrated that we don't know what 'next' is, or how to get there.  Often we get so mired in what might happen in the future, that we immerse ourselves in piles of worry and confusion. Needless to say, it can be a very uncomfortable place to be.
What's important to realize is that when we can't see ahead, it's time to look right in front of us.  Not backwards, or forwards.  Rather, right here in the present moment.  It's here, in this moment,  where we're able to course correct and clarify our vision.
Sounds good, but how do we do that? We start, simply, by tuning in to ourselves.  We notice what's going on within — our emotions, our needs, our desires.  By making this internal connection, we're able to determine what we need in order to move forward.  This is the first crucial step.
We equip ourselves for the challenge ahead by asking: 'how can I help myself right now?' — and by committing to the answers we find.

This might mean getting more sleep. Or eating a healthier diet.  Or meditating more often. Or releasing pent-up emotions.  It might mean reaching out to a trusted friend or healing professional.  Perhaps it's finally reading that book we've been meaning to read.  It could mean anything.  Only you will know what's most meaningful for you right now.
Any time we move forward, we need to let go of something in order to lighten our load.  For example,  letting go of what we think will happen or what we think must happen.  In addition, letting go of resentments, grudges, and pent-up emotions will serve us enormously.  By letting go of what clouds our vision, our vision begins to clear.  Seeing more clearly eases our way forward.
If you're feeling stuck right now, pause, and tune in. Listen to your inner wisdom. Take action to care for your needs.  Get clear on what's most important to you.  Determine what you need to let go, and begin the process. Once you begin to clarify your vision, it will become easier to take the steps towards transformation.
Some Useful Tools to Help You Get Unstuck:
Meditation.  There are many ways to meditate.  Find what's best for you.  If you don't know how, there are many helpful books and teachers on the topic.  Insight Timer  is an app which offers a vast array of guided meditations and meditation music, along with a timer for silent meditations.  Regular meditation will help you access your wise inner guidance.

EFT Tapping.  EFT tapping is a wonderful tool to help you release the emotions and beliefs which are clouding your vision.  In addition, tapping helps to reduce cortisol, making your brain more efficient.  Efficient brain function, and a calm nervous system will do wonders to assist you in finding solutions to face any challenge. To learn more about EFT Tapping, contact me.

Heart Breath.  The Heart Breath meditation will help you drop out of a depleting, defeating, mind loop.   By calming your heart, you will help calm your mind, and open up to new possibilities and solutions.  For a free download of my guided Heart Breath Meditation, enter your email in the Heart Breath box to the right of this post.  Or, find me on Insight Timer, where I've posted a number of meditations, including the Heart Breath.
My best wishes for your road ahead.
Peace,
Marian