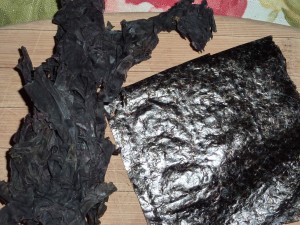 Nori is another one of my favorite magic funk-buster  remedies. It's high in Iodine, and alkalizing – so it gives a nice energy boost. Iodine boosts thyroid function,so  it's also a good weight loss snack. I keep it handy in my cupboard for those moments when I'm in a funk – exhausted, run-down, or hungry for something salty.
Nori, the seaweed used to wrap around sushi, is very easy to use. You can cut it in half, or quarters, and use it to wrap around rice or veggies. The moisture of the food will soften it, making it stick to the food.
I like it best toasted and crumbled as a snack.
Toasted Nori is simple to make — use a pair of tongs to fan it over a low flame on the stove top. Toast both sides. The Nori will turn a lighter greenish color once it's toasted. When it's ready, tear the Nori into small pieces, and eat.
Just in case you were wondering, Nori doesn't grow in sheets. Wild Nori is actually a type of red algae. Nori sheets are made with a pulverizing paper-making process, and dried into thin sheets. Wild Nori can be roasted in the oven at 200 for a crunchy snack.
The picture above shows both the wild Nori and Nori sheet. I get my wild Nori from the Maine Seaweed Company. Click here for their catalog.
How do you like your Nori? Post your questions and comments below.