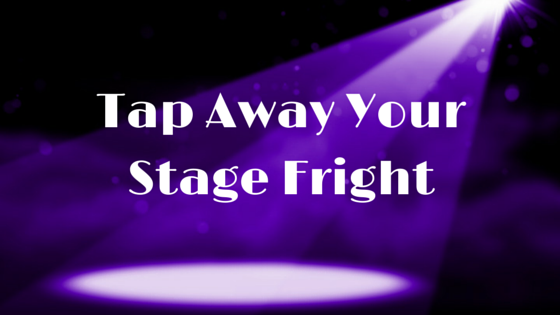 The other night, my husband, who recently started using EFT tapping, tapped before his first open mike performance. The tapping helped him release his anxiety, and allowed him relax.  So when it came time to perform, he was able to sing 3 songs on his first try!  3 songs!! Needless to say, he felt amazing afterwards.
So, what is it about performing in public that makes us cringe? Is it the fear of criticism?  The fear of  standing in the spotlight?  The fear of making a mistake? The fear of drawing a complete blank? Yes, yes, yes, and yes?
So often, it's what happens BEFORE the performance that's the most painful.  All that anticipatory angst. The actual performance itself can be a relief – if we ever get there!
Performance anxiety usually stems from a painful past experience.  A painful experience that somehow led us to fear the stage.  Fortunately, EFT Tapping is a technique you can use to clear away anxiety, and build a sense of calm confidence.
One client describes how terrified she felt about an upcoming vocal performance.  Although she had been taking voice lessons for years, and had a beautiful singing voice, she was terrified to sing in public.
As a child my client loved to sing, but was made fun of when she did.  The nature of this experience left her feeling embarrassed by her voice – leading her to hide it, so not to be criticized. Decades later, when she decided to take voice lessons, she discovered her beautiful voice.  Despite her discovery, however,  she still felt the old feelings stemming from her childhood experience.
So we used EFT Tapping on her feelings of embarrassment. We tapped on her fear of criticism. We tapped on her fear of making a mistake. We tapped on her fear of being too nervous to sing.  In addition, we tapped in positive feelings about her ability to sing.
It didn't take long before my client felt calm, relaxed, and excited when she imagined her upcoming performance. And,  it went splendidly.
So, next time you feel the jitters about performing in public, take some time to notice what you're feeling.  Try EFT to tap on the feelings and fears that come up.  EFT is one of the most effective techniques for reducing cortisol, the major stress hormone, so it will help you relax. When you feel calm and relaxed, your performance will flow beautifully.
Good Luck!
Click Here for a Description of How To Use EFT Tapping.
Marian