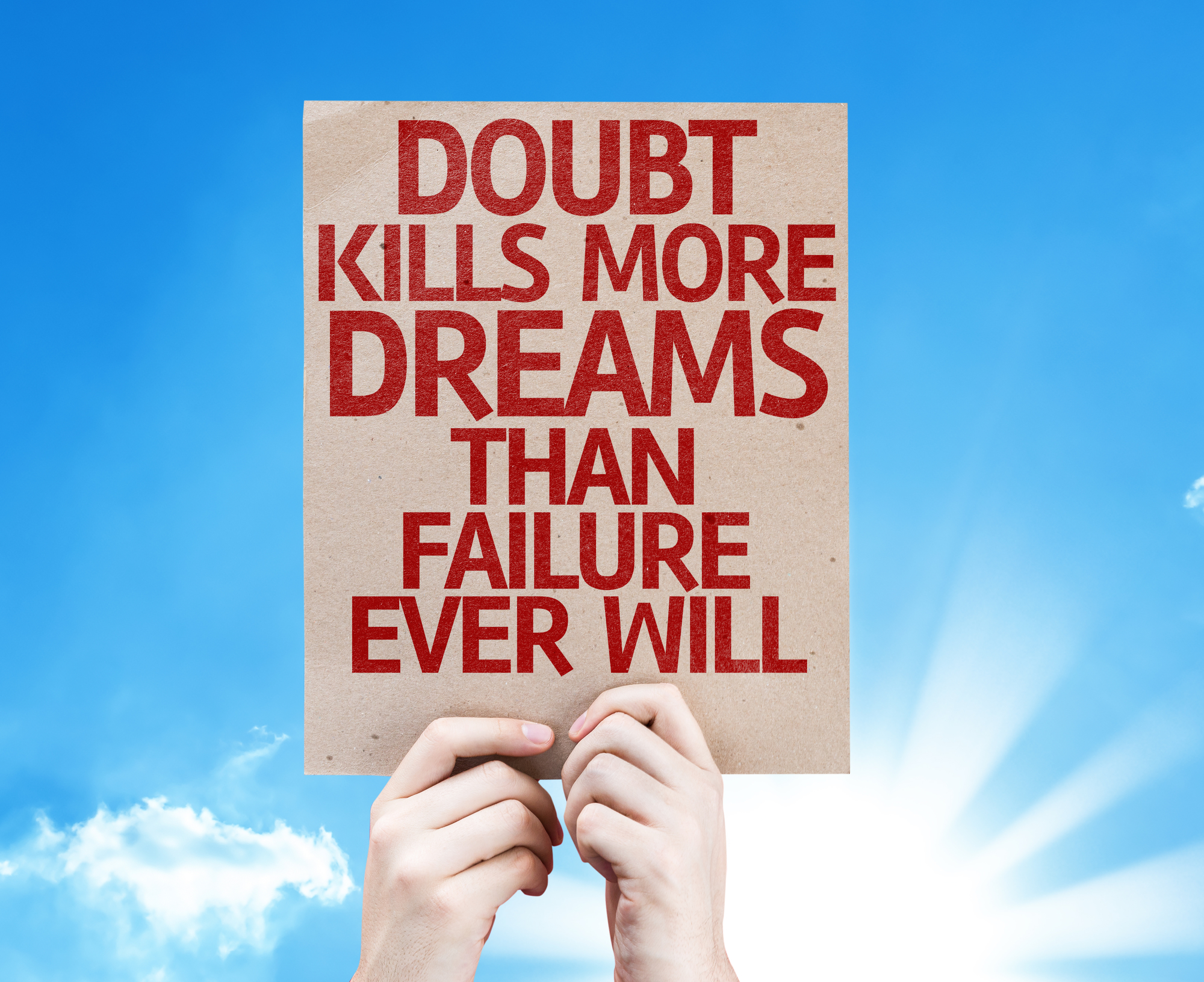 Sylvia Plath once said, "The worst enemy to creativity is self-doubt."
A lot of truth in that statement, for how can we create anything if we're mired in self-doubt?
Self-doubt is the irritating low-vibration undercurrent that can grab ahold when you're doing your work, or venturing into something new. It defeats us before we even start.  When given the power, self-doubt can weaken, diminish, and even attempt to extinguish our hearts desires.
What's worse, is that most times, instead of questioning it, we believe it. We believe that we're just not good enough, smart enough, powerful enough, diligent enough to do whatever it is our heart is longing for. 
The good news is, we CAN do something about it. We can do simple things that help us move into a place of confidence and trust.
Learning to  count on yourself is one of the most important things you'll ever do.
Here are some suggestions:
Create a new habit which will benefit you in some way.  Start small.  For example, get up 20 minutes earlier. Meditate at the same each day. Drink water at regular intervals throughout the day. Schedule a specific time to go through your emails.  You get the drift.  Creating a new habit is about showing up for yourself with consistency. The more consistent you are with following through, the more trust and confidence you'll have in yourself.
Expand your competence.  When we're mired in self-doubt we're often steeped in the belief that we're incompetent in some way. For the areas in your life you'd like to improve, dive in a little deeper. Learn more, practice more, keep at it. Little by little your competence will grow. For areas where you're already competent, dive even deeper. The more you grow your competence, the more confident and self-assured you'll feel.  You'll realize that it truly is within your power to make the changes you desire.
Ask for guidance. Confide in a trusted friend or mentor. Discuss what you'd like to achieve if it weren't for your self-doubt. Gather honest input your strengths and weaknesses.  The more knowledge you have, the more power you'll have to move yourself forward.  The more you practice reaching out for input, the freer and more confident you'll feel in sharing your ideas.
Use your imagination to see what you want. When we're swimming in self-doubt, we're usually imagining exactly what we don't want. Instead, use creative visualization to see yourself experiencing what you desire. Imagine how it feels, and what you are doing. Really get into the scene, and see it going well for you. Doing this will help you increase your sense of confidence.  It will also facilitate your creative process, and the flow of ideas.
Use EFT Tapping.  EFT Tapping can help clear negative feelings of self doubt, and it can also help you boost positive feelings of confidence. Walking around with a continual undercurrent of self-doubt will only serve to drag you down further. EFT Tapping is quick, powerful, and easy to learn.  Contact me to learn about using EFT Tapping to conquer self doubt.
In Courage,
Marian