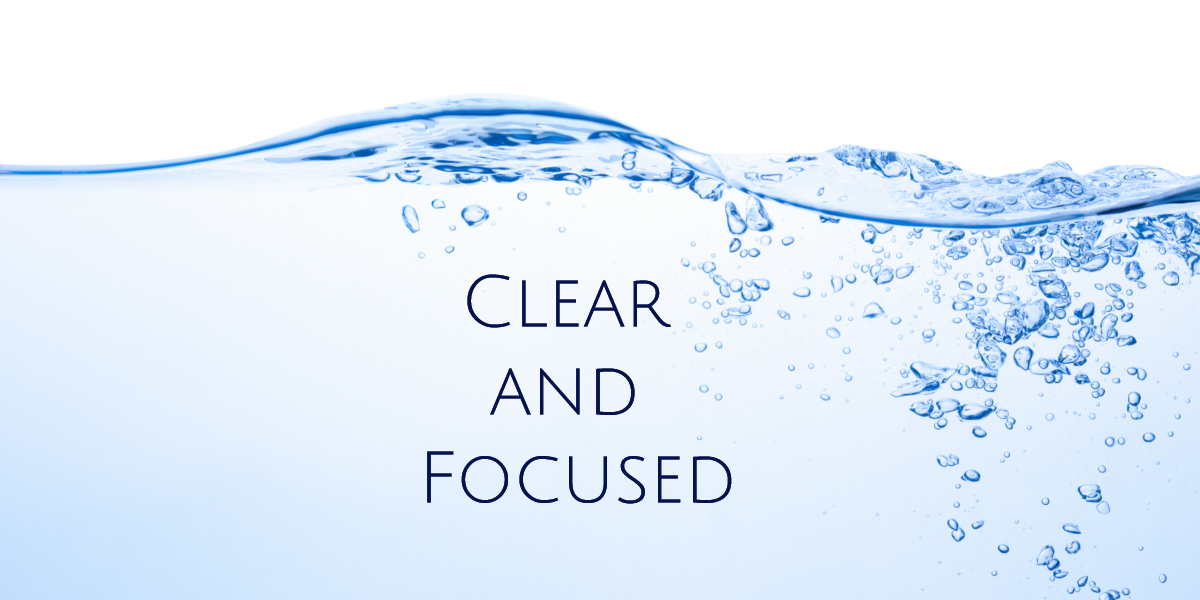 January is a time to reboot, refocus, and get clear about our lives.  Despite the cold here in New Jersey, it's an invigorating time of year, and I love it.  As I look out my back window, past the bare winter branches, the view is clear, far, and wide.  The possibilities feel endless. 
Along with these endless possibilities, comes the need for focused clarity.  Gazing into the far off  yonder feels freeing, and inspiring, yet I know I can't stay there.  It's time to get back to work.  Back into focus. It's time for renewed clarity.
Here are some tips to get back into focus after a distracting holiday season, or at any time that you feel the need to clear your mind of all the muddle.
Meditate  — The practice of meditation will help you clarify and calm your mind. The act of focusing on your breath helps train your mind to focus when and where you need to focus.  I talk about meditation all the time, because it works.
Fresh Air – With colder weather, it might be tempting to stay inside.  Ignore the temptation.  Being out in the fresh air allows you to breathe in more oxygen. When your brain gets more oxygen, it functions more efficiently, boosting clarity and concentration.
EFT Tapping —  EFT tapping does wonders for a distracted, overworked mind.  The act of tapping helps bring you back into your body. In addition, it helps lower cortisol, thereby returning more blood to the thinking part of your brain, increasing its efficiency.  And, tapping helps bring your brainwave state from a beta level to an alpha level.  An alpha brainwave state will help you feel more calm and focused. Contact me to learn more about EFT Tapping.

Get Clear about Fear – Sometimes fear will make us choose distraction over focused action.  Often, we're not fully aware that fear is causing us to stay distracted. Take time to look at what you're avoiding by being distracted. Notice any fear that comes up around whatever it is you're avoiding.  Sometimes it's enough just to acknowledge the fear, and take action anyway. Other times you might want to use EFT Tapping, or talk with a practitioner or therapist for help. Contact me if you'd like help releasing fear.
Positive Self-Talk – Keep your eye on the prize.  Notice what you're saying to yourself.  Keep yourself in a positive space by continually telling yourself you can do it.  For example, repeat to yourself that you love being creative, productive, successful, disciplined,  etc.   In her book Becoming, Michelle Obama describes how she successfully uses the refrain : Am I Enough? – Yes I am, to help herself overcome big challenges.  Remember that you too, are enough! Get the positive talk going, and keep it going.  It's amazing what it can do to improve your self-perceptions.
Eat Green and Clean —  A clean, green diet will do wonders to increase clarity and focus.  Dark green and cruciferous vegetables are especially helpful for detoxifying the blood.  The fewer toxins in your system, the more focused you will be.  In addition to increasing vegetable consumption,  reduce or eliminate foods that contribute to toxification.  These foods include refined carbohydrates, wheat products, sugar, alcohol, and processed foods with artificial ingredients.  And, remember to drink plenty of water.
Music —  I use an app called Focus@Will. This works so well for me that I sometimes actually resist it when I don't want to get down to work.  There are numerous apps with music designed specifically for studying, writing, working, etc.  Used regularly, this type of music will cue your mind to come into focus. 
Aromatherapy – Aromatherapy is another way to cue the mind.  Candles scented with herbs can be effective.  Aromatherapy infusers, using your favorite essential oils, are also useful.  Experiment, and find what works for you. 
Happy New Year!  Wishing you a fabulous, amazing year, with oodles of LOVE, PROSPERITY, FRIENDSHIP, GOOD HEALTH, FUN, and ADVENTURE!
Peace,
Marian