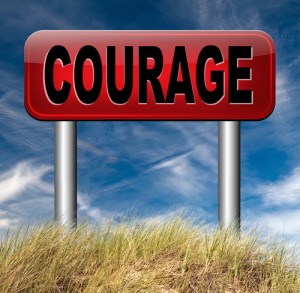 In the process of recording interviews for my upcoming podcast series, Courageous Heartbeats, I've been asking many of my colleagues about the courage they summon in order to follow their hearts to do what they love.
Frequently I hear the response: "Well, I really wasn't that courageous…."
However, truly, each step any one of us takes in pursuit of our heart-felt dreams is indeed an act of courage!
Courage shows up in so many different ways and sizes.  There are the enormous leaps, such as leaving a job to start a business, or leaving an unhealthy marriage, and the smaller, ongoing, everyday acts of showing up to do the work.
I'm interested in every act of courage.  Why?  Because fear hides everywhere.  And when courage has the guts to overcome fear, that deserves to be noticed.  Noticing our acts of courage can help us feel more courageous, and step out of the fear that holds us back.
For some of us it can take an enormous amount of courage just to send an email to a prospective client.
For others it takes courage to show up each morning to create something fueled only by the glimmer of an idea.
It takes courage to introduce yourself to someone you don't know. Courage to speak your mind.  Courage to express your creative gifts. Courage to change your routine.  Courage to stop smoking, drinking, or eating junk.  Courage to break through the habit of procrastination, or over-busyness, or holding back your gifts.
Focus on your courage, and it will grow. Here are some suggestions:
Keep a courage journal – Write down each day the ways in which you've used courage.
Grow Your Courage – Decide on an area in which you'd like to be more courageous. Create a list of small steps you can take help yourself feel more confident.  Take action.
Imagine Yourself Courageous – Choose a future scenario where you'd likely be scared. See yourself there, and imagine feeling calm, centered, and courageous. The more details, the better.  This exercise will help you feel much more comfortable as you approach your goal.
Tap in Your Courage –– Use EFT Tapping to tap in phrases such as:  I Love Feeling Courageous, I Love Breaking Through Fear, Courage Feels So Good, I Love Making Progress, etc.  For an illustrated tapping guide, click here.
In Courage,
Marian