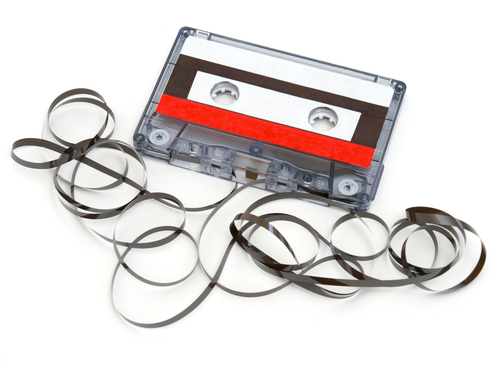 That trusty mind-chatter loop, you can always count on it to remind you about what you haven't done, what's wrong with your life, your body, your finances, and anything else that could possibly worry you.
It's sneaky, convincing, sometimes outright manipulative.  It will do anything, and everything, to win the grand prize of controlling your every thought and action.  It will spin you down dark spirals, it will keep you hiding from opportunities, it will deny you your peace of mind.
Many clients tell me it visits them at night.   That's its favorite time.  That window of time when we lie captive in the dark, the mind-loop swells ominous.  Mine tends to show up right before it's time to get up for the day — trying to scare me back to sleep.
What's important to realize is that the mind loop is truly all in your head.  It's the ego/brain's way of keeping us safe, in its own strange way.
The problem is, when you're stuck in a mind loop, your mind is not free to access helpful information or solutions.  When your mind is wrapped around what's wrong…. that's all it sees.  It cannot see anything else.  Un-loop your mind, and you will see the possibilities.  You will see the solutions you never knew were there.
Here are some suggestions to unloop the mind-loop.
Write — Use writing to move looping thoughts out of your head. Write  your to-do list into a notebook which you can refer to on a daily basis.  Keep a journal to do a morning or evening mind-dump.  Write solutions to problems.  Write down your dreams and goals. Refer to them on a regular basis to build and refine.  Once you move anything out of your head it's easier manage.
Get Physical–  A mind-loop will keep you spinning in your head.  Do something physical, to move back into your body.  Take a walk.  Jump up and down.  Exercise.  The goal is to  focus on the physical activity, and the feelings in your body.
Sit Quietly —  Close your eyes, and  breath slowly and deeply.  Notice how you feel.  Watch your breath as it flows in and out of your body.  Notice any thoughts, without judging or engaging with them.  Sit quietly, breathing deeply, for as long as you like.
Do the Heart Breath — Similar to quiet sitting, with the Heart Breath, you imagine that you're breathing in and out of your heart.  Breathing this way for a few minutes will help you drop out of your mind, and into your heart. Click here to download my Heart Breath Meditation.
EFT Tapping — EFT Tapping is a powerful way to clear a persistent mind-loop.  Tapping helps to dismantle neural pathways that keep us stuck in habitual negative patterns. If you're familiar with EFT, use it to tap on your feelings about specific aspects of the mind-loop.  For example, use it to tap on your feelings of anxiety about the project you haven't started.  Once you begin to clear the anxiety, new solutions will begin to appear.   Click here to learn more about EFT Tapping.
In Courage,
Marian