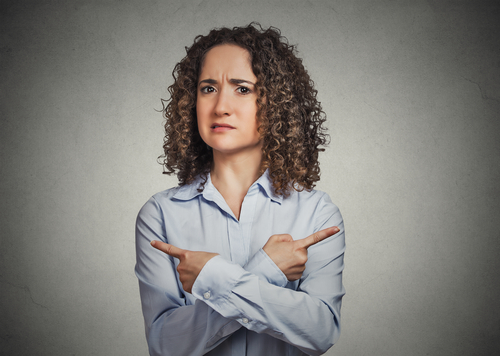 I hear it from everyone… "These times feel so uncertain."… It feels like we're standing on the brink of something…but what exactly?
What I also hear, from many of my clients, are the common worries: "I don't know what to do."  "Nothing is clear."  "I haven't heard back yet."  "I have no idea what's going to happen…"
Certainly, uncertainty can feel real uncomfortable.  It's that unsettling place of limbo, betwixt and between.  And it can be especially hard when it creeps into to your job… your finances… your family…your health… your relationship.
I believe that in times of deep uncertainty, the only thing to do, is to look within, and bring focus to the present moment.
Here are some tips to help you embrace your times of uncertainty:
Ground yourself with morning meditation. A daily meditation practice will help you infuse a sense of peace into your day. It will also help you open up to the intuitive and spiritual guidance necessary to clarify your situation.
Write daily morning pages, or keep a journal. The regular practice of free-style writing will allow you to tap into your deeper wisdom.  Use this as a tool to release the mind chatter that clutters your mind. Pose questions as you write, and allow the answers to come to you.

Get clear about what is certain for you in this moment. Although parts of your life might feel completely uncertain, it's likely that other parts hold more certainty.  For example, what beneficial daily routines, activities, friends, or family, can you count on right now?  Use this time to cultivate meaningful habits and relationships which will help you move forward.
Be open to good outcomes. We never know exactly what will happen in any situation. However, it might feel natural to focus on what 'could' go wrong, when faced with uncertainty.  Instead, open your mind to the numerous positive possibilities available to you in any moment.  Use your imagination to visualize positive scenarios that appeal to you.  Keeping yourself in a positive mind frame will help you create more of what you want.  Your brain's reticular activator is always active, and it will help you find more of whatever (negative or positive) you're focused on.
Use EFT Tapping. I've said it before, and I'll say it again.  EFT Tapping is the perfect tool to release old limiting beliefs and negative mind chatter.  Times of uncertainty can easily trigger feelings of fear, low self-worth, and self-doubt.  EFT Tapping helps to neutralize these negative feelings, and dismantle stuck patterns of negative self-talk.  Click here to learn more about EFT.

Use the Heart Breath. The Heart Breath is a very powerful technique, especially during times of uncertainty.  It will help you reduce fear, and increase clarity.  I've got a free audio meditation.  Click here for the download.
Sending you wishes for Peace and Clarity.
In Courage,
Marian