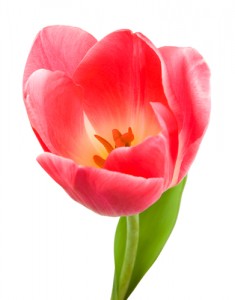 It takes courage to bloom. Courage to expand and grow into new expressions of ourselves.  These suggestions, based on a flower's natural rhythm and needs, will help you find the strength and courage to bloom
Warm up. Spring flowers will not grow unless it's warm enough outside.  A cold snap will kill them. Don't expect to go from cold to full bloom.  Warming up is what enables us to endure, and enjoy, the road ahead.  Warm up to your dreams. Ease into new experiences. Strengthen your skills by stretching your creative muscles.  Add warmth to your environment with supportive people, and encouraging thoughts.
Soften your soil. Just as hard rocky soil impedes plant growth, being hard on yourself will impede your desired growth. Soften your approach to yourself.  Understand that growth of any kind needs acceptance of where you are right now.  It's from this softened place of acceptance that you'll be able to take the steps that will lead you to your dreams.
Clear out the weeds and pests. A garden clogged with weeds, and ravaged by pests, will never grow to its full splendor. Pesky negative mind chatter will clog your mind, making it impossible to think clearly about your next steps. Doubts and worries will squash your ability to create your desired experiences.  Releasing mind chatter will help you clear the way to your heart's desires.  EFT tapping is a perfect way to clear the out negative mind chatter.  Contact me to learn more.
For a guided Heart Breath audio, to help you drop out of your head, and into your heart, click here.
Nourish your Environment. Nutrient-rich soil, fertilizer, water, and sun all help nourish a healthy garden.  Julia Cameron, Author of the Artists Way, recommends regular artist dates with yourself in order to nourish your creative juices.  Julia tells students to "fill the well" with activities that inspire and empassion.  Nourish your home and work environments as well, with elements that speak to your own unique expression.
Allow ample space. Just as flowers and trees need space between them – your dreams and desires need space as well.  Give yourself that space.  Allow quiet, undistracted pockets of time to meditate, envision, create, and nurture your dreams.
Ready to clear out the pesky negative thoughts and beliefs that are blocking your success?  Click here to schedule a free 30-Minute Unleash Your Creative Genius call.