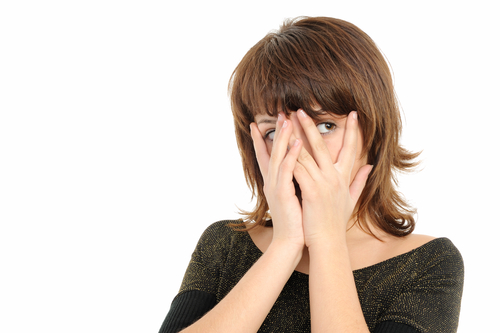 Not only do we hide from fear, but fear also hides from us, waiting to pounce and sabotage our best efforts in business and creative projects.  Here are some of the places where fear loves to hide.
Procrastination –
An all-time-favorite hiding place for fear.  When a job or task feels scary, it might feel easy and even natural to avoid it.  Unfortunately, habitual avoidance = procrastination.
Procrastination takes you on the ultimate guilt-trip. We blame ourselves for being lazy, and this feeling of laziness leads to more of the same.  A soul-sucking cycle for sure.
Instead, what if the next time you find yourself procrastinating, you simply take a moment to notice what you're feeling inside.  Take a look at the activity you're avoiding.  Ask yourself why you're avoiding it. Notice any fear that arises.  Next, try one of the methods listed below to help calm your fear.
Over Busyness –
Busyness may seem like the opposite of procrastination, but not always.  Keeping yourself overly busy, with tasks unrelated to your creative projects, might mean you're avoiding something scary.
It can feel very scary to expand our talents and creativity.  Conversely, it can feel much safer to keep busy with busywork, volunteer work, housework, etc.  And then, before you know it, there's no time left over for your dream.
The next time you find yourself busy with everything but your business or creative work, get clear on what you're avoiding.  Decide upon one quick step you can take towards the project you're avoiding.  Build your momentum with quick, small actions that won't stress your overly-busy life.
Indecision —



How many times have you felt stuck in indecision, when it feels impossible to make the right decision?  Or desperately muddled, unable to see any clear choice of action.  It's frustrating, for sure.
It's important to know that indecision often points to a fear of clarity.  Or rather, a fear of what you know needs doing.  Getting clear might mean making a scary decision, such as leaving a job, starting a new business, scrapping an idea, or taking some sort of risk.
When you're feeling besieged by indecision and anxiety about your next best steps, relax.  Clarity comes most easily when you're relaxed.  When you're feeling more relaxed, get clear on what you really want.  Then take a step in that direction.  Allow your intuition to guide you each step of the way. Try one of the techniques below to help yourself relax.
Three Methods to Help Calm Your Fears:
Deep Breathing – Slow, deep breathing helps to oxygenate your blood, and facilitates better brain function. Deep breathing also helps stimulate the para-sympathetic nervous system, to create a calm state of being.
EFT Tapping – EFT Tapping helps reduce cortisol, the major stress hormone released when we're in fear.  Using EFT tapping when you're feeling fear, helps to reduce the intensity of the fear, and can often neutralize it.  Click here for more information on EFT Tapping.  To learn more about using EFT Tapping to reduce fear and anxiety, contact me.
Heart Breath – The Heart Breath is another form of deep breathing where you imagine that you're breathing in and out through your heart.  It's a fabulous technique to help you move out of a fearful, busy mind, into the wisdom of your heart.  Click here for a free audio meditation.
Find that fear, clear it, and do it anyway!
In Courage,
Marian
Free workshop for solopreneurs, entrepreneurs, and creatives:  Overcome Your Fear of Shining in Your Business, So You Can Do What You Love.  Click here for the download.