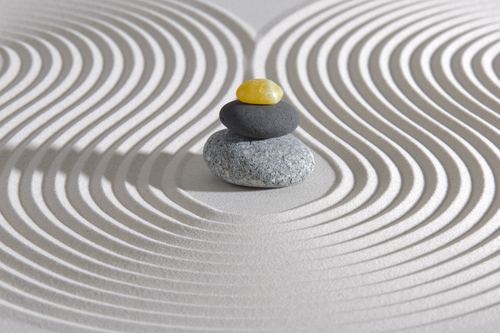 When things get hectic, I know how easy it is to get thrown off balance.   And when I'm off balance, everything feels harder.
It's those times when it's really hard to stay centered, that I know I need to pay more attention to my self care. No matter how hectic things feel, or how little time I believe I have.
It's a struggle, sometimes, when I would just just rather zone out. But it's the practice that brings me back to center, every time.  And it's this practice that helps me keep my peace.
Here's a quick list of helpful centering practices– I use a combination of some or all each day.
Morning Meditation — A silent meditation, a guided one, or one with music such as Wayne Dyer's I AM Wishes Fulfilled.  15-20 minutes.
Morning Pages — Three handwritten pages, free-flow, before breakfast.
Nature Walk — As little as 15 minutes can do wonders for a scattered mind.
Yoga —  Helps strengthen, center, and unite your body, mind and spirit.  Even a short warm-up routine can be enough to keep you centered throughout your day.
Spring Dragon Tea — Made from the herb gynostemma, this tea is perfect for boosting stress relief and focused energy.  Manufactured by Ron Teeguarden's Dragon Herbs.
Afternoon Still Time — Quiet time, with no distractions, except maybe a book. Or perhaps even a 15-20 minute snooze.  Wonderful for clearing and rejuvenating a busy mind.
Evening Inspirational Reading or Listening — So helpful for those truly stressful days.  Tuning into inspirational authors, poets, speakers, and musicians is a soothing way to come back to a place of centered calm.
Evening Tapping — A quick round of tapping, at the end of the day, helps me clear away distracting residue.  For an illustrated description of the tapping points, click here.
Heart Breath — One of my favorite ways to get out of my head and into my heart. This technique involves deep breathing, and uses the heart's energy to calm your busy mind.  Click here for a short heart breath audio meditation.
So here's the deal.  It might feel hard to commit to even a couple of these suggestions.  But do it any way. It will make all the difference to help you stay centered, and happy, especially in hectic times.
Be Well,
Marian
Click here to apply for a free, 30-Minute Unleash Your Creative Genius Clarity Call.