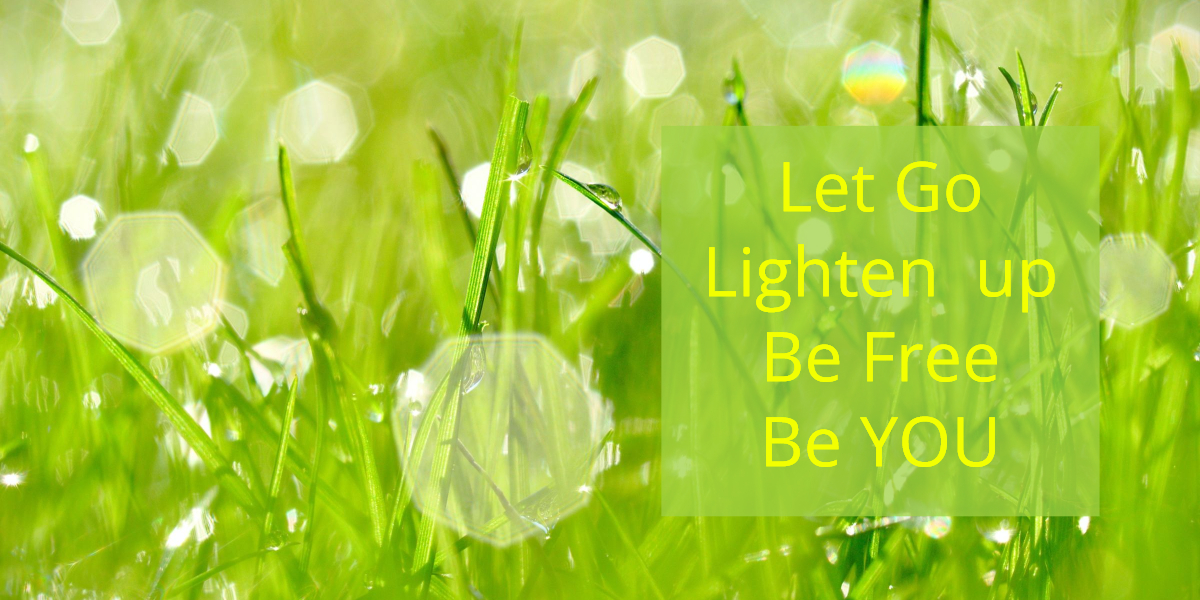 As we approach summer, we're called to lighten up. Lighter clothing, lighter bedding, lighter foods.  And sometimes, a lighter workload. You know the drill.  We loosen and lighten up, in order to celebrate the freedom of the season.  Time to let go of the same-old, same-old, and welcome in something fresh. 
When we're weighed down by the past, it's difficult (or impossible) to feel lively, happy and free. Unprocessed limiting beliefs, hurts and resentments interfere with our daily lives.  Sometimes it can feel like ground hog's day, every day. The same pattern, the same routine, on continual repeat.
When old patterns don't change, or new plans don't hold, there's usually something from the past that's holding us back.  Processing old pain and outdated beliefs is key to shifting limiting patterns.
Following are some ideas to lighten your load:
Resentment – Take a look at where resentment shows up in your life.  Old, festering resentments can impede the success of meaningful relationships.  Even when the resentment has nothing to do with the people involved.
Acknowledging that you feel resentment is the first step in letting go. You might find it hard to admit to resentment because you think you're wrong to feel it.  Yet, resentment is very common. It arises from being wronged or hurt,  and/or feeling helpless to change your experience. The resulting disappointment, anger, and frustration, if not processed, will contribute to feelings of resentment.  Ongoing resentment will affect the way you communicate and relate with others.

Letting go of resentment will help you create more peace and joy in your relationships.  Meditation, EFT tapping, therapy and forgiveness practices such as ho'oponopono are powerful tools to help you loosen the grip of resentment. Try what works best for you.

Outdated Beliefs – It's the beliefs that we don't even question which are often the most outdated.  Though these beliefs might have nothing to do with our current circumstances, they can impact them in a negative way.  We hold fast to outdated beliefs because they're what we've always believed.  For example, beliefs formed in childhood, such as 'I'm not wanted', or 'I'll never be good enough', will exert enormous pressure on our lives.  We keep on believing the falsehoods – despite mountains of evidence to prove otherwise

Observe your beliefs, no matter what they are.  Determine which ones are worth keeping, and which ones hinder your growth.  With each, look to the past to see where, and from whom, the belief might have originated.  Create a list of beliefs you'd rather have, and look to role models for evidence that these new beliefs are indeed possible. 
Explore practices such as meditation, journaling, affirmations, EFT tapping, coaching, or therapy.  These tools will help you release outdated beliefs, and reinforce new beneficial beliefs.  Create a system that works for you.

Resistance – Resistance yields resistance. It builds, and it builds, until it feels like an insurmountable wall.  Often, the resistance is far more intense than whatever we're resisting.

Resistance feeds upon fear, and the stories we tell ourselves.  Acknowledging  that resistance is a collection of feelings and thoughts, and not the thing you're resisting, is a first step in moving beyond it. 
Next, looking deeper into the nature of your resistance will make it easier to resolve.  For example, is there fear that something will be too hard?  Or that you will feel vulnerable in an unwanted way?  Or that you will be rejected, criticized, embarrassed, hurt, or overwhelmed?  Deeper understanding will help lead you out of resistance. 
Proceed with an encouraging, non-judgemental mind. Keep your eye on the prize, and focus on how you'll feel when  you take action.  Take a step, and then another, to build your momentum.  Happily, resistance often disappears once you're actually doing what you were resisting. 
In addition, of course, meditation, EFT Tapping, movement, coaching, and therapy, will all assist you in moving forward.
Emotional heaviness zaps vitality, and squashes any sense of true freedom. Resentment, outdated beliefs, and resistance will drag you down. Period. Try some of the tools mentioned in this blog, or any others that work for you, to lighten  your load.
Release your way forward into more happiness, peace, and joy.

Peace,
Marian